AGARBATTI
INCENSE STICK [AGARBATTI]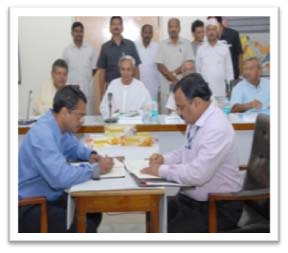 Agarbatti rolling activity is a micro enterprise in rural Odisha and a traditional household activity. The rolling of Agarbatti provides an additional income to the rural household. With an aim to promote Producer groups/SHGs to roll and supply raw Agarbatti so as to enable them for round the year handsome income. The income is assured and based on the production quantity.
Role of ORMAS/DSMS
The DSMS (District unit of ORMAS) with the support from DRDA has provided Skill development
training to the beneficiaries after forming their group and linked them with Indian Tobaco Company (ITC) marketing of the product. The tie-up has been made with ITC Limited by entering into a MoU between ORMAS and ITC on 14th October 2009 in presence of Hon'ble Chief Minister of Odisha. In the first phase around 3200 producers of 15 different blocks have been trained for production of quality battis & involved in production. Till July 2015 a total quantity 1822.00 MT of battis having a total worth of around Rs.12 Crores has been supplied to ITC Limited. This activity is benefiting 9701 rural producers of 14 different districts like Nayagarh, Cuttack, Khurda, Kandhamal, Balasore, Mayurbhanj, Puri, Bhadrak, Jagatsingpur, Kendrapada, Dhenkanal, Angul, Boudh and Jajpur.
Agarbatti making through hand is beneficial to women members of rural households who get an average additional income of Rs.1500/- to 2000/- per month for their family while working at the leisure time at home.
In the last couple of Years, based on success in hand rolled operation, productivity enhancing equipment has been provided to clusters/SHGs/Producer Group to enhance productivity and thereby enhancing earning capacity of rural women. The said pedal project is also to be replicated across the districts in the state of Odisha.
Pedal Operated Agarbatti Machines details
| | | |
| --- | --- | --- |
| Agarbatti Machines supplied by | - | ITC Ltd. |
| Made in | - | Vietnam and Wimco (a unit of ITC |
| Cost Of the Machine | - | Rs.20000/- to Rs.25000/- (at Odisha) |
| Productivity of the Machine | - | 20 to 30 kg per day in wet condition and 14 to 22 in dry |
| Total machines installed in Odisha | - | 662 as on 31/07/2015 |
| Total district covered | - | 12 (Mayurbhanj, Balasore, Bhadrak, Jajpur, Kendrapada, Dhenkanal, Cuttack, Khordha, Nayagarh, Kandhamal, Puri, Ganjam) |
| Total No of Clusters | - | 37 |
| No. of beneficiary involved | - | 890 |
| Income per beneficiary | - | Rs. 120/- to 150/- per day |
| Buy back arrangement by | - | SSE, Cuttack (Authorized Vendor of ITC Ltd.) |
Incense Stick making through Pedal Instruments: The productivity is quite high resulting for a better remuneration to the SHGs which can go up to Rs.120/- to 150/- per day depending upon the production capacity of the producer. Presently there are 37 units with 662 pedal instruments running in 11 different districts in Odisha. The total production through pedal instruments units is around 1606.56 MT till July 2015 and revenue of Rs.1105.00 Lakh for 890 producers. Average income per month of a Pedal roller is Rs.3500-4500/-.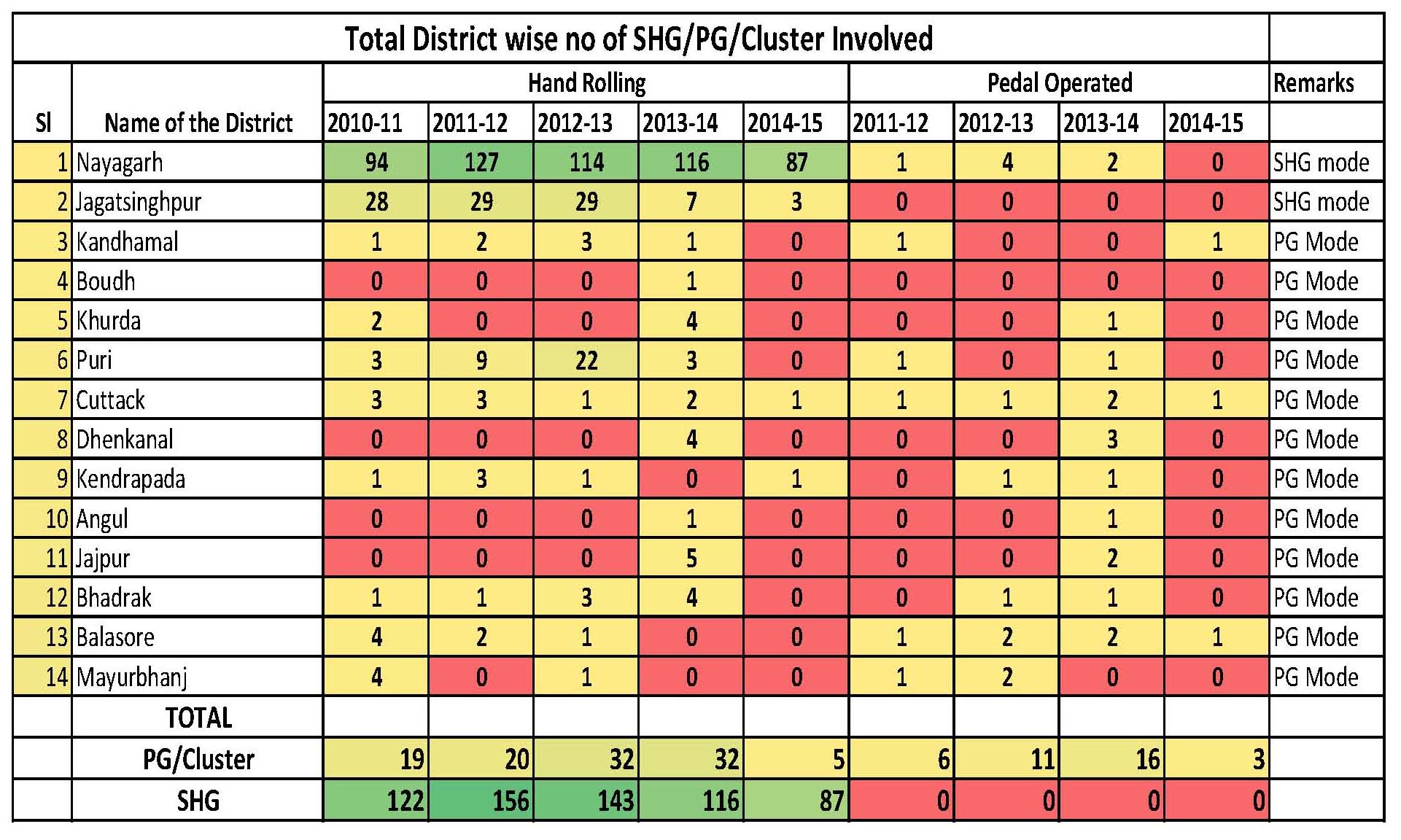 Total District wise production in MT
S.N.
Name of the District
Hand Rolling
Pedal Operated
2010-11
2011-12
2012-13
2013-14
2014-15
2015-16
2011-12
2012-13
2013-14
2014-15
2015-16
2016-17
1
Nayagarh
59.44
305.85
264.56
127.3
74.79
5.13
0
19.75
53.63
61.26
19.34
66.75
2
Cuttack
33.53
89.94
53.33
23.11
7.3
0
0
55.79
58.22
59.41
20.49
52.64
3
Khurda
8.95
50.47
56.14
22.74
8.26
0.69
0
6.58
15.59
7.8
1.33
4.81
4
Phulbani
5.65
19.25
12.35
8.7
4.36
2.52
0
23.57
29.34
34.04
12.43
39.84
5
Boudh
0.27
1
1.46
1.09
0
0
0
0
0
0
0
0.00
6
Balasore
0.88
30.24
28.95
31.93
27.47
1.11
0
96.5
153.63
227.71
88.95
174.30
7
Mayurbhanj
2.59
15.01
9.57
4.04
6.91
1.28
0
38.04
18.21
21.73
9.65
11.37
8
Bhadrak
0.2
4.04
8.23
14.4
10.67
1.62
0
0
20.47
36.2
9.63
21.28
9
Kendrapada
0
4.23
14.85
10.02
7.72
0
0
0
5.33
3.98
0.96
0.00
10
Jagatsinghpur
0
1.81
7.06
1.96
0
0
0
0
0
0
0
0.00
11
Puri
4.77
17.77
68.64
62.97
50.88
0
0
45.85
48.75
50.37
16.68
43.86
12
Jajpur
0
0
0.21
7.33
5.26
0
0
0
14.08
24.08
5.55
22.22
13
Dhenkanal
0
0.75
9.67
11.1
5.41
0.22
0
22.8
73.7
64.11
16.23
49.32
14
Angul
0
0
0
0.29
0
0
0
0
0
12.21
2.6
7.10
Total
116.29
540.37
535
326.97
209.04
12.57
0
308.88
490.95
602.9
203.83
493.49
Year wise production of Hand roll Agarbatti
Year wise production of Pedal operated Agarbatti
Year
Production in MT
Price in INR (lakh)
Year
Production in MT
Price in INR (lakh)
2010-11
116.29
69.77
2012-13
308.88
216.21
2011-12
540.37
335.03
2013-14
490.95
343.67
2012-13
535
331.7
2014-15
602.9
422.03
2013-14
326.97
205.99
2015-16
203.83
142.68
2014-15
290.04
125.42
2016- 17
493.49
370.11
2015- 16
12.57
7.54
TOTAL
2100.05
1494.7
Production for the FY 2016-17 till Mar'17
TOTAL
1821.24
1075.45
Obdated on 26.5.2017